Welcome from our Head Students
We are delighted to announce our new Head Students, Evie Perry and Seb Wickenden for this year, pictured here with Mr King, Head of School. Read on for their experiences over the last 5 years at Esher High School.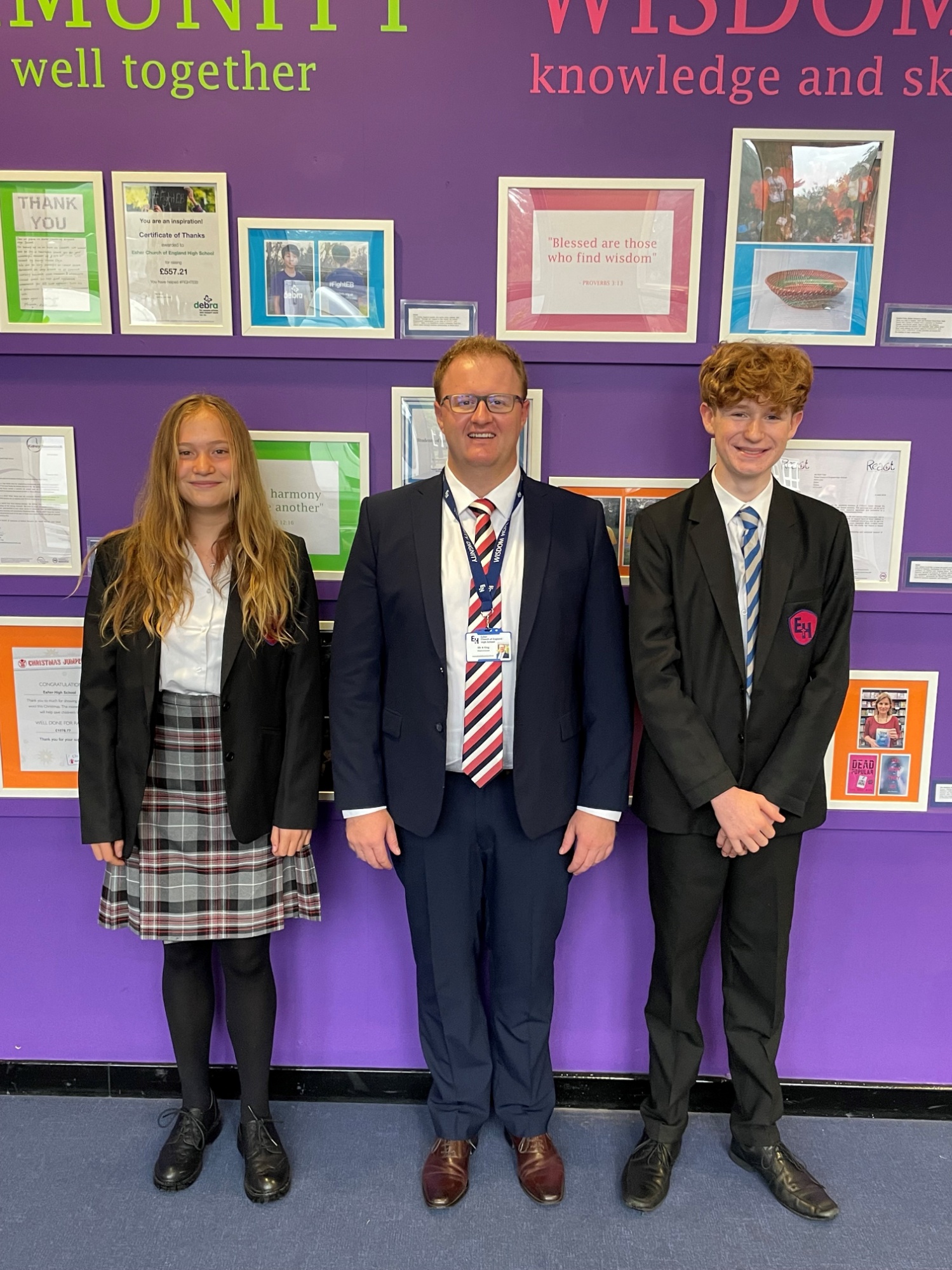 Hi, my name is Evie and I am a Head Student at Esher High for 2021-2022
Even though I came to Esher High with a lot of people from my primary school, I was still nervous about fitting in and making new friends. I need never have worried though, there is such an amazingly broad variety of people at Esher, from artists, to athletes, to academics, there is always someone you will get along with and I have made some of the best friends I could ever have asked for, most of whom I'd never met before starting Year 7. So, although it may seem daunting at first, the fact that there are lots of people in the year groups is actually one of the best things about Esher High.
There are so many different things to get involved with. We have a great variety of clubs and activities on offer outside of lessons. Whether it be Netball, Drama, Dance, Cooking, Debate Club, STEM Club or Darts, there is something for everyone, and we are constantly being exposed to new and exciting opportunities. The extra-curricular activities I've done at Esher have shaped who I am as a person, and I am so grateful to the school for offering them to us.
When it came to choosing my subjects for GCSE, I chose both History and Geography, which can be a time-consuming combination, but the teachers have been amazing at ensuring I have never felt overwhelmed with the workload, and I love the choices I've made. I constantly feel pushed to succeed and thrive in each of my lessons, and the teachers want to see you improve and do your best. They are more than happy to go over specific things either at break, lunch or after school to ensure you understand and feel confident with the work.
This support was especially clear during the COVID lockdowns. It was a strange time for us all, but I think we all felt reassured by the knowledge that we could always email any of our teachers for additional support with our lessons and the fact that they continued to check in often really made it feel like they cared.
My favourite thing about Esher High is the truly incredible sense of community that we have. Undoubtedly one of the best days of the school year is our Sports Day. Everyone being together on the field cheering each other on is such an amazing thing to be part of and you truly get a sense of the Esher High spirit that we all share. Another way that the school's sense of community really shows is with the amazing musicals put on by the fantastic Performing Art's Department. The most recent play was Beauty and the Beast, and it was such a brilliant display of our school's talent.
I am really looking forward to the exciting opportunities coming up in my last year at Esher High and as much as I will miss all the amazing teachers and the incredible friends I have made, I feel that the school has prepared me to go out into the world as a well-rounded, independent person and I will always look back fondly on my memories from these last 5 years.
Hi, my name is Sebastian and I'm a Head Student for 2021-2022
Looking back from Year 11 before the pandemic - before I had even turned 12 - I remember starting at Esher High School. I was a nervous kid, knowing only 6 others who had come from my primary school. But through those early years at Esher; the opportunities and new subjects we were offered I met some of the best friends I could hope for and built up my confidence with the help of Drama and Music. I really can't overstate how my time here has shaped me.
The recent times at school have been testing for everyone in the way the Coronavirus Pandemic affected us; from Year 7s starting in a new environment to the Year 11s having their exams cancelled. It was scary. It was a dark time that shook the school, staff and students but it also showed the true dedication of our teachers, and the work they continued to do for us - an example of the community we had built. The bravery and strength of the staff and students to keep going and keep growing despite the odds. Positive change is never linear or simple, it's about taking what you have and moving forward.
So here we are in September 2021 and (fingers crossed) the end of the pandemic is nigh but that does not mean sweeping it under the carpet. We must help everyone pick themselves up, recognise issues created by the pandemic and those that were there before and fix them all.
I didn't run for Head Student to be complacent, I ran to make a difference; to help my fellow students and because I believe in Esher High's future. For me, that is what makes this school a place where the students' voice: both criticism and cooperation is valued and its importance grows every single day. My time here has enabled me to become an independent, cooperative, and self-aware young adult, making a difference.