Welcome from our Head Students
We are delighted to announce our new Head Students, Lex Allsop and Edgar Garnier for this year; pictured below with Mr King, Headteacher. Read on for their experiences over the last 5 years at Esher High School.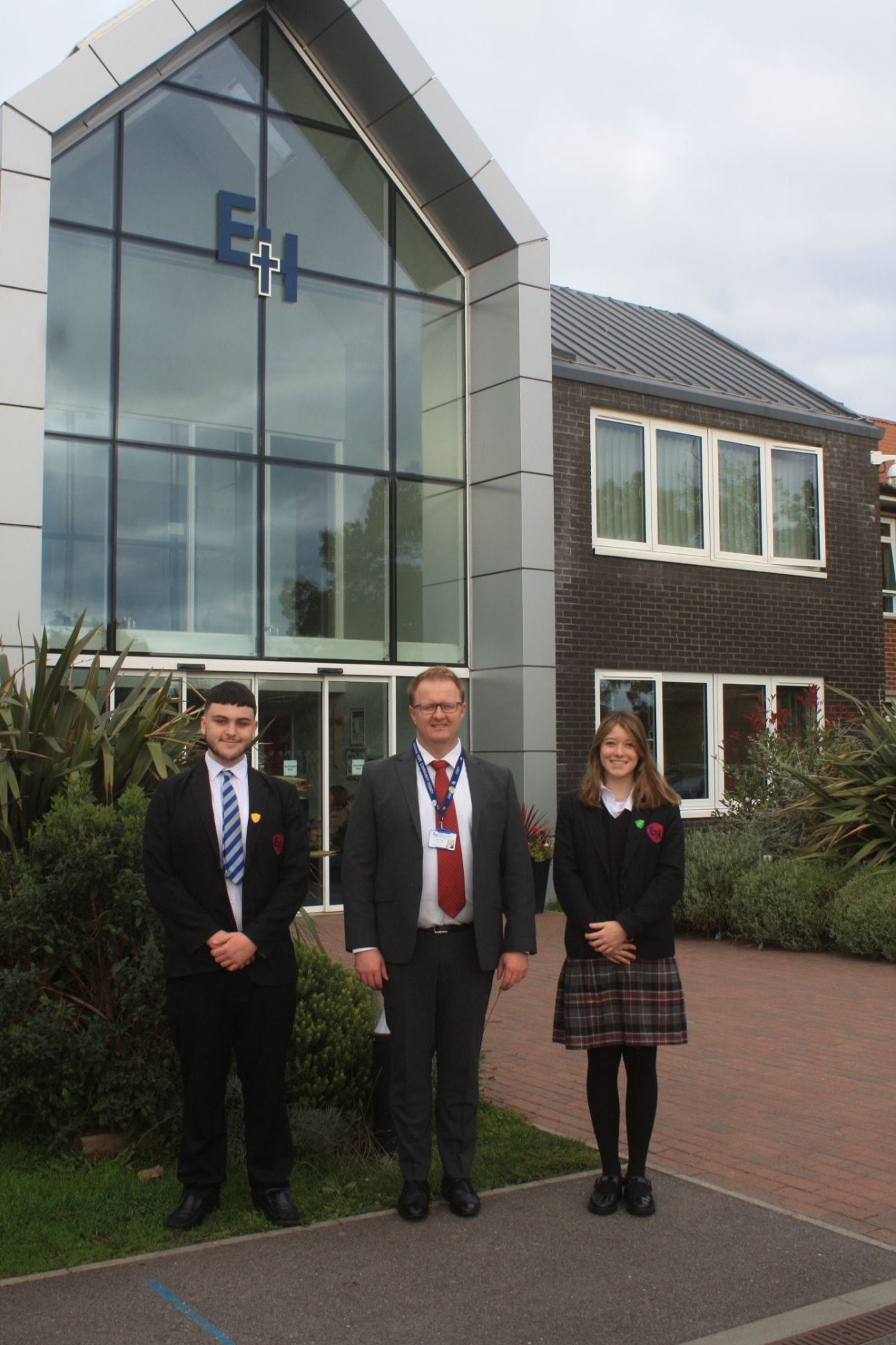 Hi my name is Lex and I am Head Student at Esher High School for 2022-2023
It was on 17 September 2020 that I first visited the Esher High School. I was in the process of joining but before I started classes a meeting was arranged between my soon-to-be Head of Year, my mum and myself. I have never struggled with socialising, but equally have never had confidence in myself nor my academic abilities. Looking back, I feel that this 'little talk,' had a huge impact on me. It was the start to my journey and the preparation I needed to feel comfortable in this new environment. However, this move changed my life forever. The school itself has been an incredible support system for me, helping through my most challenging moments. This has impacted not only my grades and ability in lessons but also my attitude to life outside school. I am very grateful to the teachers at the school, who not only believed in my potential but brought back my belief in myself.
I will always remember the extra mile the teachers go to from maths classes after school before the Year 9 summer exams to the staff involved with the production of Chicago play and the extra work they put in so that it was something we, as students, could be proud of and our school's amazing support base ISB, which really cares about students' mental well-being. In my experience, each and every teacher and member of staff at Esher High impacts our lives for the better simply by being a role model for us. Being surrounded by supportive peers has also positively impacted my school experience as well as my work ethic.
Although I went to primary with many students at the school my nerves were still the same as anyone else who had ever joined a new school. However, I have learnt that there is someone for everyone at Esher High School. Everyone is unique and different in their own way, and it is our acceptance of that which makes our school so great. I have made so many friends here, some new, some old, all of them will forever be engraved in my mind along with all the happy memories we've made together. It is thanks to all these people that a school day for me is no longer one I dread but instead make the most of by taking advantage of all the opportunities offered to me here. The extra-curricular clubs vary from sports, drama, arts, STEM club, debating, cooking, languages, social clubs such as board game club and darts.
I've never been a part of such a strong supportive community before and I hope to help other students, by being a role model for them too, so they also get the most out of their time in school. My aim is to keep making change for the better. As well as helping shape students into becoming the best they can be. I now feel prepared and ready to face the world after school and hope to help others feel the same.
My name is Edgar and I'm a Head Student at Esher High School
I was told about my place at Esher High School after the usual induction period, so at the time it was the best news I'd heard but equally, I was nervous as everyone had already met each other. But when I came to the school, I was really surprised at the broad range of students here from academy footballers, athletes, artists to academics, so there were more than enough students for me to fit in and most of these people I'm still very close to.
It may seem frightening at first, having to talk to people you've never met before and trying to make friends but, take it from me, there is always a group of people at Esher High School that you can fit into. There are so many things to get involved at lunch time and after school and we are constantly being offered new opportunities. The extra-curricular activities I've taken part in have taught me to work better in a team and grow as a person and I am thankful for the opportunities that the school presented.
Coronavirus is something that we all remember as it closed our schools and made us move to online learning. I missed so much of year 8 and 9 because of this but that didn't stop me from being able to learn. It was tough for both staff and students, but it really showed the dedication of our teachers in helping to shape our future. I believe that this experience brought our school community closer as everyone looked to each other for support – students and teachers together strived for positive change in the school space. I ran for Head Student because I want to make change and strive for a better school life for everyone. My years at Esher High have allowed me to grow as a person into the young adult I am today and I will always look back at my memories of this school very fondly.