Welcome from our Head Students
We are delighted to announce our new Head Students, Flora Burrowes and George Dillon for this year; pictured below with Mr King, Headteacher.
Read on for their experiences at Esher High School.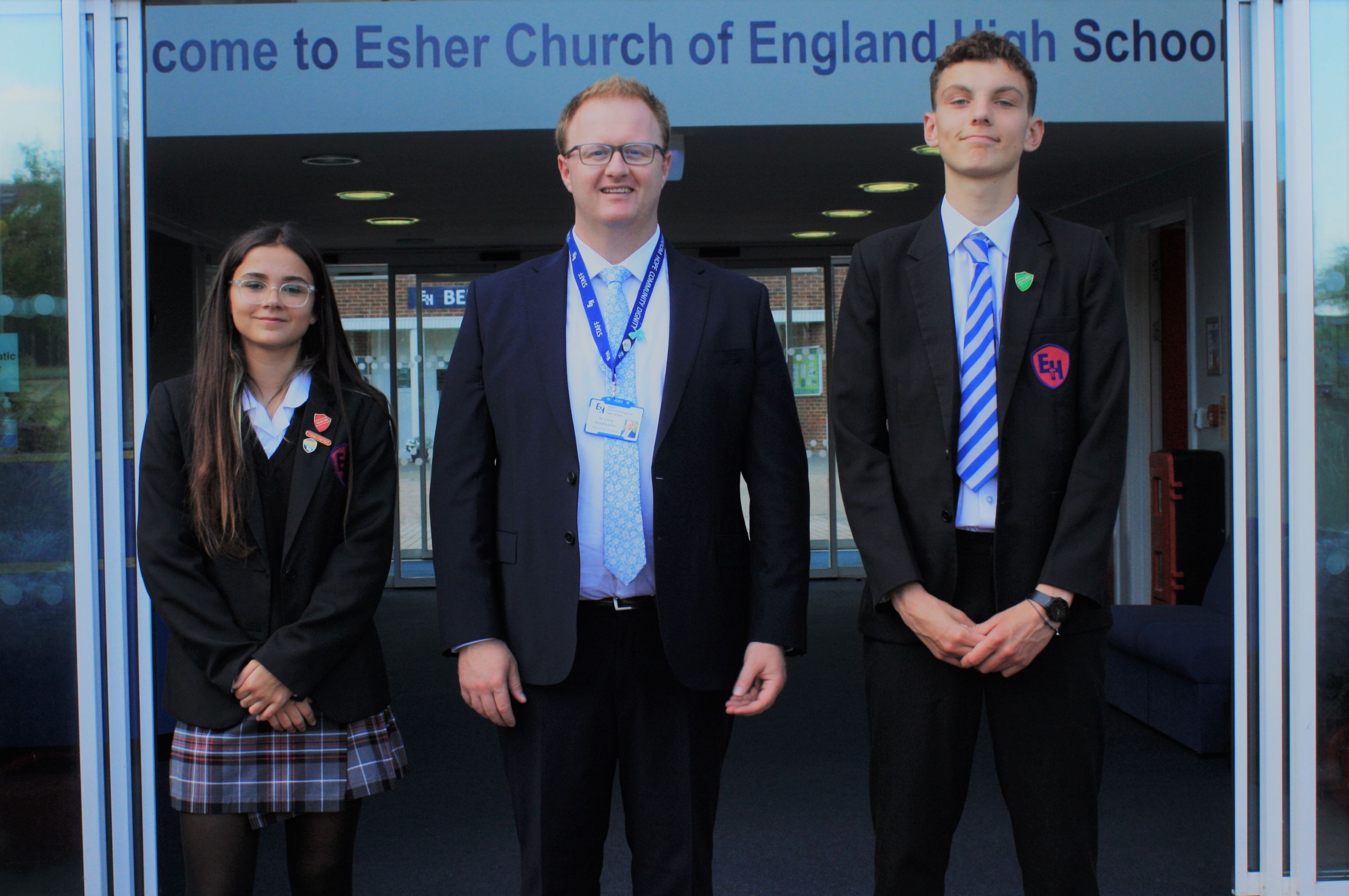 George writes:
When I first found out about my place at Esher High School, I was very excited. At the time I had an older sister who was already at the school and I went along to her parent's evening. I remember a teacher coming up to me and having a chat about Esher High School about the subjects, the teachers and school life. One thing that stuck with me that evening was the value of inclusion that this teacher talked about, and this is still true.
For years, Esher High School has proved that anyone can fit in and feel a real strong sense of belonging. There's something for everyone whether you're sporty, academic, theatrical, artistic… the list goes on.
As I've progressed through Esher High I've not just developed academically, but also as a person. This growth has been supported by friendly staff and peers every day. The teachers at our school are always happy to help and will support students pastorally and with their learning.
Last summer I was lucky enough to go on the school trip to Zambia where we visited local schools and helped the community by teaching tag rugby. Three weeks in a poor African country made me realise how lucky I am to have nice things in life; such as a great school. This trip will live vividly in my mind and has changed my outlook on life.
The opportunities at Esher High are so valuable that every single one should be tried by students.
While it may seem daunting at first and it most certainly was for me until I talked to that teacher, since Year 7, Esher High's unique strong sense of community and kindness has become part of my mindset.
Flora's thoughts:
Hi, my name is Flora, and I am a Head Student at Esher High School.
My transition from primary school to Esher High was stress free as most of my friends from primary school moved with me. I have always been talkative and social and I find it easy talking to new people. I have multiple friends at Esher High, some from the beginning of Year 7, and some that I've made more recently. I have made incredible memories that I will treasure with all of them. I've been a part of the amazing clubs that are offered at Esher High, such as Master Chef, textiles, athletics and rounders. I understand that not everyone coming to Esher High will find the transition as easy but the school has an excellent student support team that can help with every issue and it has multiple different groups that enjoy different things so it's hard not to make friends!
Throughout my 5 years at Esher High, the teachers have pushed and challenged me to become my best self so I have always felt supported in my learning and have been provided with opportunities to extend my learning. So many of my teachers have inspired me to excel in their subject while at the same time, every teacher has understood not everyone learns the same way and they all go the extra mile to help and accommodate every student in the class.
As a Head Student I want to give back to the school that has given me so much and help to make everyone feel safe and happy in the school environment. I want to act as a role model for younger years to inspire then to be the best they can be too.