Supporting Learning for Students with Additional Needs
We understand that we are not able to offer face to face support, for many of our students, but we can arrange a chat and check in on Teams if you or your child wants to speak to us. Please contact your child's tutor, subject teacher or cweatherhead@esherhigh.surrey.sch.uk.
Here are some strategies that you can try at home to support you child if they feel stressed or anxious or are just not coping at any point during lockdown, some of these may not work and that is okay.
Keep your child in a routine, it is really important to get them up and ready each morning as they would for school. Structure and routine are good and mentally it prepares us for the day ahead.
If your child is feeling stressed with school work online then give them a break, it is okay to take a break from learning and it is okay to not complete the work all in one go.
Break up the work into smaller chunks and, if you can, use a visual cue or "now and next" board to show them what they have to do. You can create your own or we can help you make one.
If they need it, use a timer to give them a clear start and finish time for each activity or lesson. You can use a phone, online timers, such as the one here - https://www.online-stopwatch.com/ or you can buy one online.
Encourage your child to use Immersive Reader in Class Notebook/OneNote if it helps. This only works with text, but can help make the work more accessible.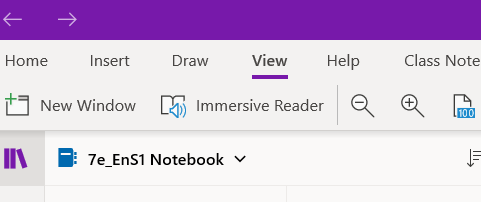 If your child uses a coloured overlay, they can change the page colour in Class Notebook/ OneNote, which is also found under "View".

Alternatively, for Microsoft devices download the Colorveil free program - https://www.aurelitec.com/colorveil/windows. The Overlay extension works on Chromebooks.
Consider using the dictation option from time to time. This is available on smartphones and tablets, and also on the OneNote app under the "Home" tab.
Ask for help! If your child is struggling to understand or keep up with lessons, do please let us know.
Below is a Home Learning Daily Checklist, which you can download to support your child work through their online learning each day. We have also provided (below) a selection of online resources and websites for Home Learning covering all aspects of learning from Maths to PE, which we hope you find useful.