Pupil Premium
The Pupil Premium is additional funding afforded to schools with the objective of improving outcomes for disadvantaged students.
A student is considered 'disadvantaged' and is entitled to the Pupil Premium if they are:
Eligible for Free Schools Meals (FSM) in the last six years or
Looked after continuously for 1 day or more or
Adopted from care.
At Esher High School, our aim is to ensure disadvantaged learners are given the opportunity to flourish within their academic studies and beyond and to sustain high attainment when comparing them to non-disadvantaged pupils nationally. Our current strategy plan focusses on key challenges faced by disadvantaged students in our school with the overall aim of improving their attainment. This includes ensuring students perform as well as their non-pupil premium peers in English and Maths, addressing lower literacy levels, improving attendance and building confident learners so they are ready for life beyond our school. We want all our students to feel like they belong in our school community and 'be more' within their learning and their own lives.
Our expectation is that all students at our school receive an excellent education both within the formal curriculum and extending beyond the classroom doors into the wider-curriculum, irrespective of their background. We will continue to diagnostically assess our student's needs through regular review to ensure the support we put in place is tailored to the challenges disadvantaged learners and their families face in our school and community. Disadvantaged learners will receive the support they need by:
Ensuring teachers teach lessons that are challenging, supportive and inclusive to individual needs
Receiving high quality personalised support within their learning and pastorally
Enrolling in targeted early intervention as identified by teachers, middle and senior leaders
Our entire staff taking responsibility for raising outcomes and ensuring expectations remain high of learners so they can achieve regardless of students' socio-economic background
Focusing on building relationships between our staff, students, families and the community to work together in order sustain a high quality of support network.
Please see the infographic below for a summary of our current approach. Further comprehensive details about each of these sections are available to read in our three year Pupil Premium strategy found at the bottom of this page.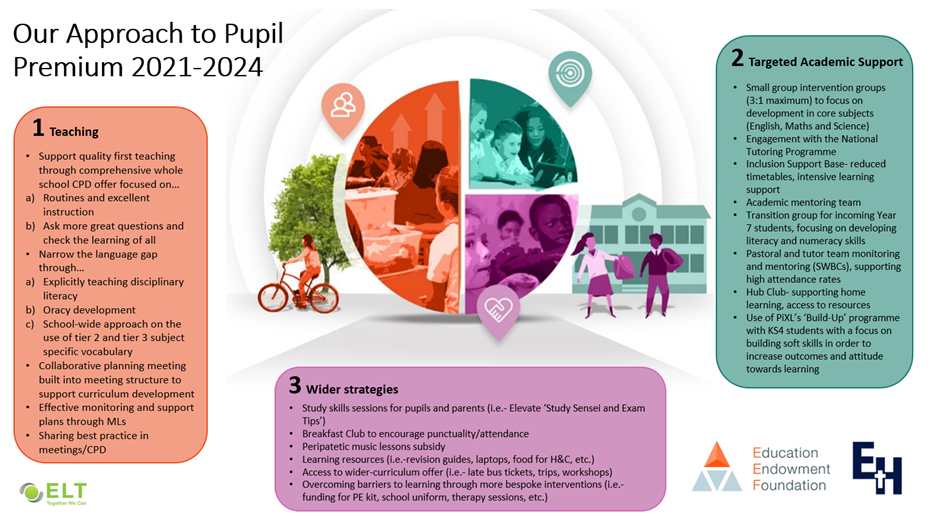 In addition to government funding, we work closely with the Walton Charity to support disadvantaged students to thrive at our school. Some examples include:
Purchase of school uniform or relatively low-cost items of equipment/materials/one off travel costs
Contributions towards school trips and activities which enhance academic performance and provide further enrichment opportunities
Extra-curricular activities based at the school including those which enable equity of access and participation for young people.
We are also committed to reporting the allocation, expenditure and impact of the Pupil Premium provision. For further information relating to the Pupil Premium at Esher Church of England High School, please contact Mr B Allin, Assistant Headteacher (ballin@esherhigh.surrey.sch.uk).
For further information on Free School Meals please click here.