Head Girl/Head Boy's Welcome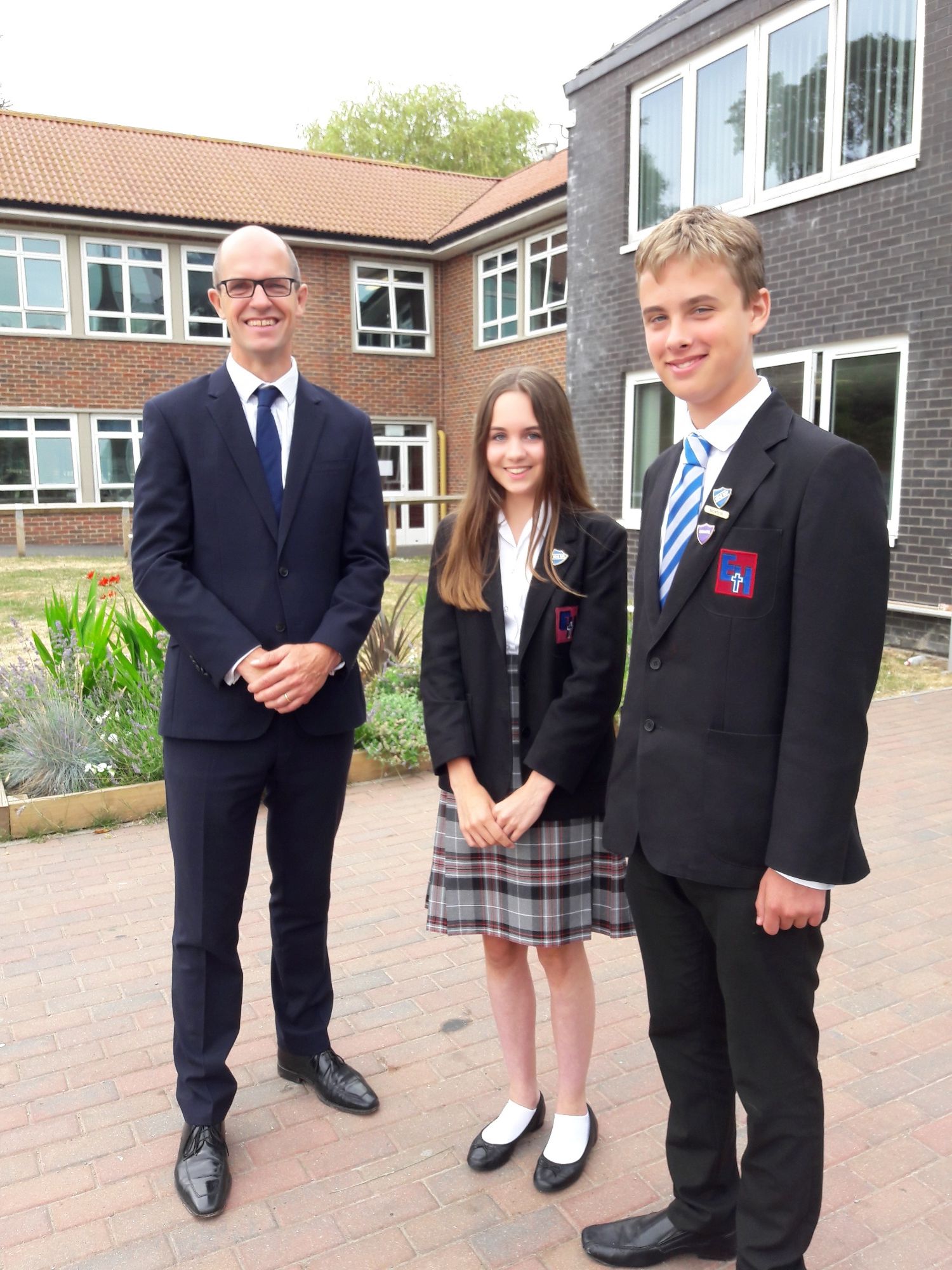 Welcome to Esher High School!
I am the current Head Girl Faye Greenway. Esher High was very different to my small primary school, with only one class per year, so the thought of starting at, what I considered, a massive school was terrifying. However, on my first few days I felt at ease as everybody was so friendly and kind. The teachers really supported every individual student and were so understanding of the fears of a new school, with all the older students being so helpful with timetables and taking you to lessons if you were confused.
Esher High School has not only helped me excel in all my subjects, but pushed me to achieve the grades I want. The teachers put time and effort into every lesson and are always encouraging students to ask questions and get involved. I developed a passion for Performing Arts very early in Year 7, having come from no previous dance or drama experiences. From then on my passion only grew, giving me confidence to audition for the school plays and Dance Company. Esher High opened up a range of clubs and new experiences I had never had the opportunity to try previously.
There is a broad range of subjects that all students get to try, for example music technology and dance are both mandatory subjects to test out in year 8, as well as subjects like Media studies and Business that can be taken for GCSE. Our P.E block has a range of advanced equipment and it's own gym, which can be used by students after going through health and safety. Esher also offers lunchtime clubs, so if you can't stay after-school you won't have to miss testing out new things. There is also many after-school buses that go to a range of areas.
Overall, Esher High School has built my confidence up and offered me experiences that have shaped my mindset and opportunities, as well as helping me acquire invaluable skills that will help me later in life.
Faye Greenway, Year 11 2018/19
Hello. I'm Ben Cackett, current Head Boy of Esher High School.
What a journey it's been since I first transitioned to Esher High School. The time has flown by since I first stepped through those gates and walked into secondary school. Having missed my induction day, walking in nearly blind (metaphorically) was exciting, nerve wrecking and breathtaking all at once. But soon, all my nerves were dissipated thanks to the kind staff who work here. It is also because of them that my knowledge across a wide range of subjects has increased dramatically, from core subjects such as Maths and English to more out-of-the-box ones like Drama and Music Technology (the former of which I have enjoyed so much I have chosen to continue to do it at GCSE level).
My confidence has also been boosted substantially. In primary school, I was extremely introverted and often only talked regularly to one or two people. However, in transition I gained the confidence to make new friends from other primary schools as well as continuing ones from my old school. These friendships are still sustained today and will continue to be for a long time. I believe I have made lifelong friends here.
Esher High is both a challenging and rewarding environment, with lessons carefully planned to stretch the abilities of students of all levels and skill sets, which I find very useful and encouraging when learning as it helps me reach my full potential. My grades are always improving, and it never feels like a strain or a task. And on top of all of this, the extra-curricular clubs offered here are amazing, ranging from basketball and cricket to musicals to academic clubs like history or geography. All of these are a great way to do what you are passionate about and are high quality, immersive and enjoyable.
Overall, Esher is a great school for me and I haven't regretted my choice to go here once in all four of my years attending this secondary school. I'm always learning new things and gaining new skills and experiences. I really appreciate the staff, my friends, and the amazing learning environments and I hope I will continue to develop an already brilliant school in my position as Head Boy, which I am exceptionally proud to have received.
Ben Cackett, Year 11 2018/19