Head Girl/Head Boy's Welcome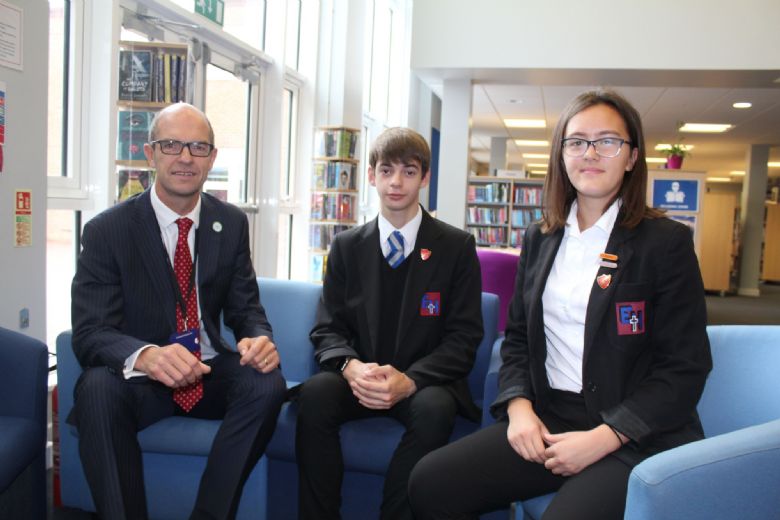 Welcome to Esher High School!
Hello, My name is Amber Bennett and I am the Head Girl of Esher High 2019-2020.
When I first arrived, my main concern was getting lost in my daunting new school. My old primary school was much smaller, and even the idea of having to change classrooms and actually walk myself to my new lesson terrified me. However, I quickly adjusted, and soon realised Esher High definitely isn't as intimidating as I expected it to be.
As an athletic student, Esher High has helped me to excel at one of my favourite subjects: Physical Education. Our PE department has always had phenomenal resources, from the wide range of sporting equipment to a sophisticated fitness suite available to every student. Not to mention the teachers, who are always willing to take students on school fixtures, whether it be a 2 hour drive to a football game, or organising an athletics tournament to host themselves. They are constantly willing to sacrifice their time to encourage pupils to pursue the sport they love, a major factor which caused me to pursue Physical Education at GCSE level.
While Esher High strengthened my love for pre-existing subjects, they also inspired me to strive for completely unique subjects, like Citizenship. While the Citizenship GCSE may be relatively unknown, it has served an integral but of my learning, and has matured me as a person, not just a student. We are taught about our country's law, democracy and politics, during such a crucial time in the UK's history, and has made our lessons very topical at times!
Overall, Esher High School has prepared me for life outside of school, motivating me to follow the subjects I love at A level, and leaving me as an independent young person, ready for the next step in her life.
Hi, my name is Christian and I am the Head Boy for 2019/20 at Esher High.
Looking over the past four years I feel that Esher High has presented me with so many opportunities and challenges. Moving from year 6 into year 7 everything seemed so big, the people, the timetable and especially the walk from class to class.
It was a massive change from the single form entry primary school that I was used to, but through the guidance of the teachers and the many helpful students, I was able to fit comfortably into the secondary school environment. They all made my jump from primary school really easy.
There are so many opportunities here at Esher High for every single student, and the school has such a diverse range of subjects, staff and students to help each individual excel both academically and in things they love.
The new range of subjects I that I started learning in year 7 really allowed me to explore areas in which I had previously not had the chance to try. This helped me to discover my newfound love for art and drama. I felt that both of these subjects boosted my confidence levels and allowed me to be more imaginative and creative. I have now gone on to take both art and drama at GCSE and am even considering taking art at A level.
I feel that all of Esher High's staff are devoted to learning and have really helped me reach my potential in every area of the school. Furthermore, the support that the teachers give us is incredible and makes sure that we are all learning and understand the task. If not they will work hard to support us, whether that is during lessons, break, lunch or after school.
To conclude, Esher High has helped me reach my potential and pushed me out of my comfort zone to reach the best that I can achieve, the staff have helped me so much to develop my confidence, which i am sure, will be very useful in the future