EHS Students perform a 'groovy' version of A Midsummer Night's Dream at GLive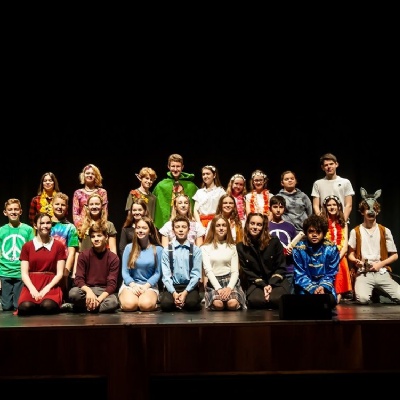 26 Esher High Performing Arts students took to the stage at GLive in Guildford November performing an abridged 1960's version of 'A Midsummer Night's Dream' as part of the Shakespeare Schools Festival.
The festival adjudicator applauded the company's professionalism and hilarious 60's adaptation of one of Shakespeare's most famous comedies.
Ben Allin, teacher director, was "blown away with the commitment, creativity and dedication demonstrated by all the students during the rehearsal process and on the evening performance. We were honoured to be the school chosen to close the festival and our students certainly did Esher High School proud".
If you missed the chance to see the performance, you can catch a festive adaptation of 'A Midwinters Night Dream' being performed at our annual Christmas Concert on Tuesday 10 December in the PA Centre. Tickets are available via Scopay or on the door.