GCSE Results 2018 show significant improvement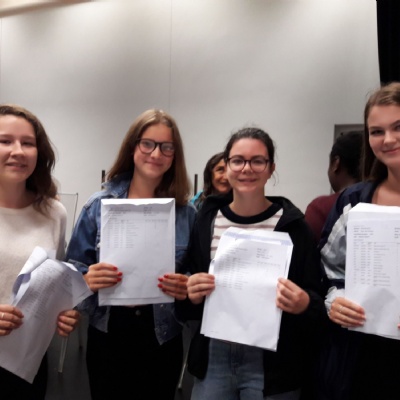 Esher Church of England High School sees a significant improvement in 2017/2018 GCSE results, despite the move to the new curriculum and grading system across all subjects.
Mike Boddington, Executive Headteacher was delighted with the progress made across the school;
"Once again this year the school has seen an improvement in our students' GCSE results. Overall the attainment level of our student improved by more than a third of a grade to 49.4 points. Maths and English results held firm with 71% of students achieving a good pass in both these subjects and there was an improvement in those achieving above a grade 5 in both.
Our science and languages results improved significantly as did the achievement of students entered for the EBacc group of subjects which is encouraging and reflects the focus and attitude of the students and staff in these subject areas. We continue to perform strongly in creative subjects which enhance our students skills and experience.
Our brightest students continue to achieve very well with several achieving notably excellent outcomes: Louise Hawkins was awarded an outstanding 9 grade 9s, Lia Williams was awarded 8 grade 9s, Nianna Kjelstrop-Osorio and Molly Bevan were awarded 7 grade 9s and Sami Lewis was awarded 6 grade 9s. There were many others who achieved high grades which enable opportunities to study successfully at A level and beyond.
These improved outcomes of more rigorous qualifications are testament to the hard work and dedication of our students and staff and clearly demonstrate the development of the school. We have focussed on developing the wider skills of our students and this, combined with these qualifications, will prepare them very well for the challenges that lie ahead. We are very proud of the achievements that this cohort has achieved and wish them every success in their future training and education"