2019 GCSE Results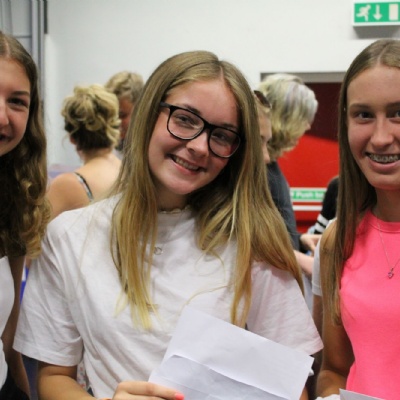 Esher High School has again achieved results significantly above average this year. Amongst reports that GCSEs were recognised as being harder than previous years, with a focus on the final exams rather than coursework, the reported national pass rate is 67.3% while 72.7% of all Esher High School entries were awarded this grade. Added to which 23.5% of our students entries were awarded grades between 9 - 7, as compared to 20.8% nationally.
Headteacher Mr Boddington said of the results " We are very happy with the results of the students this year. Our students have achieved really positive outcomes and built on the success of previous years, ably supported by their teachers and the expertise of staff in the school. Overall 68% of students achieved grade 4 or above in both English and maths, and early indicators are that their overall progress here was positive across their wide range of subjects. We are particularly pleased that this will enable our students to go on to work and study on even more challenging courses or training that will enhance their life chances.
There were individuals who achieved brilliantly as ever, with 10 students getting 3 or more grades 9 of which half were boys. We are proud of our diversity and so are delighted that many of our disadvantaged children made great progress too with early indications that these performed better than others nationally.
Our school continues to grow in strength and these results highlight the firm academic and wider foundations that we are building here. The long term trend is a positive one and we are providing a great education for all our students, and will be welcoming a new, full cohort into Year 7 soon"
If you were unable to collect your results on Results Day you can now collect them from the school Reception on school days between 9:00am and 4:00pm. If you are sending someone to collect your results on your behalf you should provide a letter of authorisation naming this person to collect on your behalf. They will be required to provide photo ID when collecting your results.
Each awarding body offers PRS which are outlined on the letter included with your results. The HOD will advise you if they recommend you request one of these services, if you consent to PRS you will need to complete the PRS Consent Form included as a link below.
All PRS must be requested by the school, you cannot request these directly through the awarding body. If you would like to request a PRS and you have not been advised to do so by the subject HOD you should discuss with them before proceeding, they will advise you whether they support your request and the reasons for their decision. You must remember that when you request a review of marking your grade could be lower, remain the same or be higher than your original grade. There may be a fee for PRS which is the awarding body fee plus a £5.00 administration fee.
Certificates
Certificates will be issued to the school in November 2019. Your certificates will be presented to you at a GCSE Certificate Presentation Evening at the school on Wednesday 13 November 2019.
Collection
If you are not able to make the presentation evening there will be the opportunity to collect your certificates from the school Reception after this evening. When collecting you will need to bring photo ID, if you send someone else to collect them on your behalf they will require a letter of authorisation from you and provide photo ID.
Unclaimed
Awarding bodies prescribe that unclaimed certificates may be destroyed after they are held for a period of 12 months from the date of issue. If you do not collect your certificates within this period, they may no longer be available to you. After this period, awarding bodies will be able to issue you a statement of your results (not a full certificate as originally issued) and will charge you for this service. You should apply directly to the awarding body for this service.