EHS student band perform at Viva Forever Festival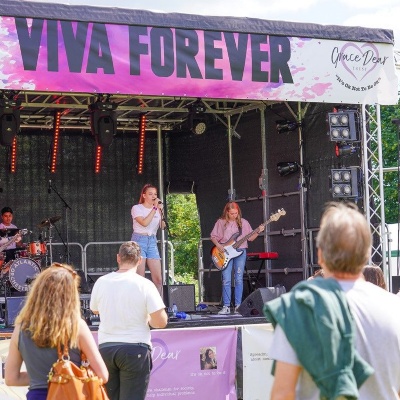 EHS Year 11 band "Blank Thoughts" performed yesterday at the Viva Forever Festival on behalf of the Grace Dear Trust a local Mental Health charity .
According to a festival goer "their performance was incredible, especially given the stress of GCSEs being so recent for them. Having finished their GCSEs they spent a lot of time rehearsing hard to ensure they gave their absolute best possible performance knowing that they represented the school. They did you proud! They worked incredibly hard and it really paid off."
Head of Performing Arts Mr Ben Allin also added "We were also thrilled to see how many of their peers had come along to support them and in turn support the charity. There was a strong Esher High School contingency present"
The Grace Dear Trust is a mental health charity set up by a local family after losing their daughter and sister, Grace, to suicide aged just 27 in February 2017. The charity's aim is to help save the lives of other young people suffering with mental health issues. Please click here for more information on the Charity.