Beauty & The Beast proclaimed a roaring success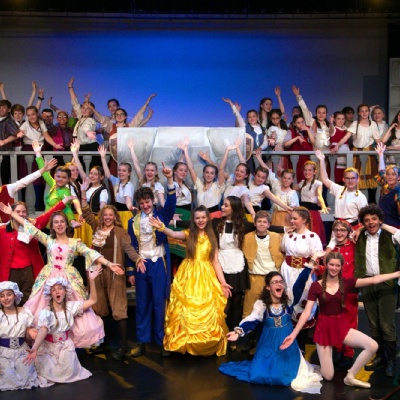 Congratulations to all our students, staff and parent volunteers who helped make the recent performances of Beauty and the Beast a true spectacle.
The cast and chorus injected energy and charisma into the well-known characters and castle objects and offered the audience some unforgettable moments of humour, romance and adventure. There were laugh-out-loud moments of comedy from the arrogant Gaston and his dim-witted devoted servant Lefou with further hilarity from Lumiere and Cogsworth who lit up the stage with their castle antics. Belle and the Beast delivered a number of tear-jerking songs and we saw the development and transformation of their characters across the two acts. Audiences were swept away with a myriad of big showstopping numbers with EHS Chorus and Elite Dancers illuminating the stage as knifes and forks in well-known number of 'be Our Guest' and delivering a toe-tapping routine to "Gaston".
The production brought together students across all disciplines within the Performing Arts and the production was a remarkable team-effort from the outset, with one of the largest cast numbers yet for a production.
Dance teacher Ms Shrubb said of the production "Importantly, the process has provided our young people with the valuable insight into the creative and rehearsal process and has equipped them with the skills, confidence and experience to progress in learning and the world beyond the classroom".
The cast and supporting crew delivered 4 faultless shows over 3 days including a matinee on the Saturday. Everything from the individual performances, singing, dancing, costumes and in particular the choreography was spellbinding.
A member of the audience was thrilled after the show saying "I really forgot myself at times, thinking I was in the West End!"
Head of Performing Arts Mr Allin said "A big thanks to everyone for making such a huge effort look so effortless. All the work really paid off. It could not have been possible without the dedication and support of our casts' families, our community of staff members and the hard work and vision of PAPA (our very own Performing Arts Parents Association)".