Year 9 Students welcome Holocaust Survivor Zigi Shippler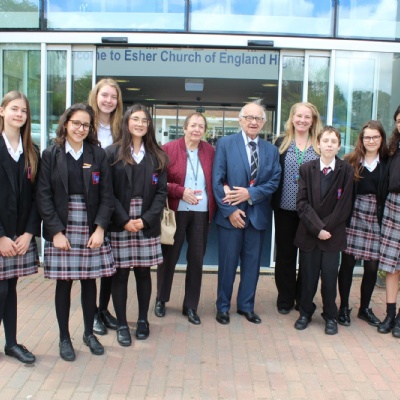 This week over 200 Year 9 Students and many staff from Esher High School heard testimony from Holocaust survivor, Zigi Shipper, as part of a visit organised by the Holocaust Educational Trust (HET).
The testimony was followed by a question and answer session which enabled students to better understand the nature of the Holocaust and to explore its lessons in more depth. The visit is part of the Holocaust Educational Trust's extensive all year round Outreach Programme, which is available to schools across the UK. Zigi went on to say "It was really an honour for me to come to Esher High School again. The students were brilliant. I had never spoken so much, answering all the questions they asked. I hope I'll be here again next year"
Executive Headteacher Mike Boddington said:
"It is a privilege for us to have welcomed Zigi Shipper BEM to our school and his testimony will remain a powerful reminder of the horrors so many experienced. We are grateful to the Holocaust Educational Trust for co-ordinating the visit and we hope that by hearing Zigi's testimony, it will encourage our students to learn from the lessons of the Holocaust and make a positive difference in their own lives."
After the talk, student Stevie Chandler Hough said of the visit "meeting Zigi was amazing. He explained to us his story and told us 'not to hate' and was so kind. It will be something I will never forget and tell my family. By telling us his story he gave us a first-hand account that you cannot learn from a textbook or in a lesson." Co-student William Cuff also added " It was a real once in a life time opportunity."