Visit to the Palace of Westminster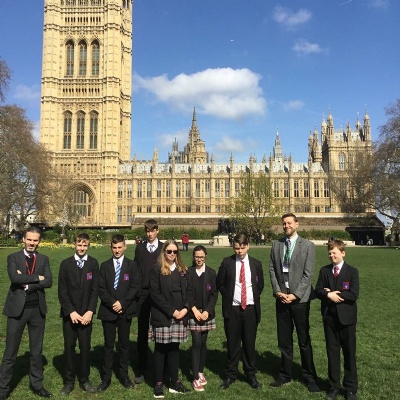 A number of students who access our Inclusion Support Base had an amazing experience at the Palace of Westminster this week.
We visited the House of Commons, stood in the chamber just above the dispatch box on the side of the opposition and learnt how MPs debate and vote on matters of state. We also had the opportunity to visit the House of Lords. It was beautifully decorated in red and includes an enormous golden throne for the Queen who visits once every year.
After visiting the chambers we completed a tour of the iconic building – one particular highlight was visiting Westminster Hall, where King Charles I was found guilty of treason. We also had the rare opportunity to visit The Chapel of St Mary Undercroft, where brave suffragette Emily Wilding Davison hid overnight in a broom cupboard before the 1911 census so that she could record her address as that of the House of Commons.
As we left the palace, students saw large numbers of both pro and anti Brexit demonstrators, along with the news crews filming them. Our attempts to get ourselves onto the one o'clock news were sadly unsuccessful! Hopefully the visit will inspire all participating students to take an interest in determining our country's future - who knows, maybe one of them will go on to be a future Prime Minister!
"My favourite part of Parliament was seeing the House of Common's where MP's debate. It looked much smaller and more compact than on the news, as was the Speaker's chair. l also enjoyed seeing the House of Lords, it was so different as it was 'gold plated' and l have never seen that before".
Josh (Year 8)
"My favourite part about going to Houses of Parliament, was seeing the 'Votes for Women's' sash, which Emily Davidson (a suffragette) who died from trying to put the sash on the kings horse, but the horse trampled on her and killed her"
Charlotte (Year 9)