EHS Year 9 Students win trip to WW1 battlefields and cemeteries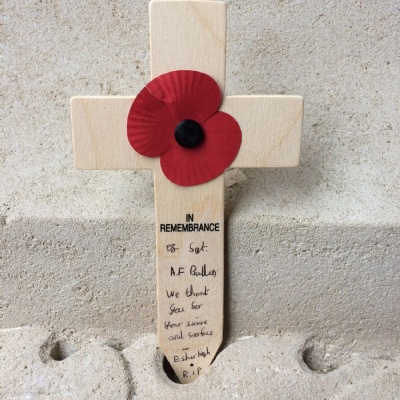 The Battlefield WW1 Legacy Tours is a national programme led by UCL Institute of Education designed to allow 2-3 pupils and one accompanying teacher to visit WW1 memorials and battle sites in France and Belgium over three days. The pupils focused on The Battle of the Somme, how lives were affected by the Great War and the theme of remembrance.
Three Year 9 pupils Nathan, Caitlin and Harry won an in-house competition to represent Esher High School.
Whilst there they received an in-depth tour from World War 1 experts. In addition, current serving members of the armed forces also provided insights into modern warfare, a topic covered at GCSE. They also had the opportunity to pay their respects by laying a wreath at the Menin Gate in Ypres, Belgium whereby every soldier is honoured with the Last Post at 8pm every evening. While they were there they researched Esher born soldiers and were then able to pay their respects to Mr T.B. Eastham and Mr A. Bullen, two soldiers who fell during the war. The students visited their graves and laid a remembrance cross.
Caitlin
"I was so happy I got chosen to go on this trip. It is something I will never forget. When you look at all the gravestones, row on row, you get so emotional. It is something you cannot put into words."
Harry
"I was absolutely ecstatic that I was chosen for this trip. I can see that remembrance is still just as important 100 years on."
Nathan
"I was really pleased to be given the opportunity to go on the trip. Visiting the battlefields put the scale of sacrifice that was given into reality in a way that pictures can't. The highlight for me was the Menin Gate where I was able to lay a wreath in honour of the soldiers."
Miss Parker, History Teacher
"This was a highly informative and well organised trip. There is a difference between learning in the classroom and seeing the sites in person. The self-discovery by the pupils was incredibly beneficial and they demonstrated the values we hold dear at Esher. That of dignity, respect, community and hope. It was a delight to see them so engaged."